Faculty and Staff
Learn more about our experienced staff
A World-Class Roster
Students will tell you it's the Faculty and Staff that make the MedQuest College experience so unique, special and successful for them. We pride ourselves on having a world-class roster of Faculty and a Staff that make our students feel at home and part of the MedQuest family during the weeks of study and practical "hands on" learning they receive at the school. Learn more about the talented people we are pleased to have that are the life of our programs here at MedQuest College two campus locations in Louisville and Lexington KY.
Miranda Aebersold
Medical Assisting Instructor
Before joining the MedQuest College team, Miranda worked in primary care settings, serving all ages. Miranda graduated from Spencerian College in 2011, where she received her CMA.
Sarah Allen
Sonography Instructor
Sarah Allen is an ARDMS Registered Vascular Technologist. She obtained her ultrasound certification at Collins Career Center and finished her Associates degree at Morehead State University. She began her professional career in January of 2012. She has experience in all modalities Abdomen, OB/GYN, Small Parts, and specializes in Vascular.
Rebecca Borukhovsky
Admissions Advisor

Rebecca started joined the MedQuest College admissions team in Lexington in July 2017. She is a graduate of the University of Cincinnati with a Bachelors in Psychology and a Deaf Studies Certificate. Rebecca worked previously in Cincinnati for Hamilton County Developmental Disabilities Services as a caseworker for individuals with disabilities. Prior to that she lived in Knoxville, TN and worked as Resident Assistant for an Alzheimer's Care Facility. As much as Rebecca loved those jobs she has a passion for working with students at a University level which is why she said "I'm so excited to work at MedQuest!"
Rebecca likes to spend time with her boyfriend and 3 year old daughter by visiting new parks, the zoo and trying new restaurants. When asked what she what she thought about MedQuest, Rebecca says "I love the people that work at MedQuest, everyone is friendly, funny, and passionate about what they do. It is so fun to be here and spend time with co-workers and instructors! The college is small and truly cares about the success of students."
Robin Boughey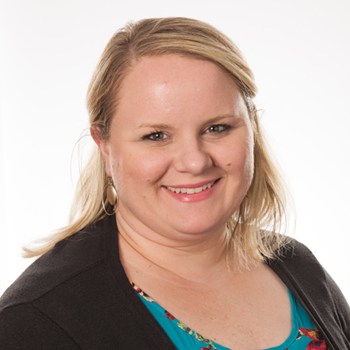 Executive Director
Robin joined MedQuest in October of 2013. "My favorite thing about MedQuest College is the connections you make. Whether with fellow staff members or students, there is always an opportunity to help change lives. You don't get that same sense of fulfillment at larger universities because there just isn't an opportunity for individualized connections. My favorite memory to date involves a student that I helped from an Admissions standpoint and then again in Financial Aid. This particular student was quite shy and had to overcome some personal obstacles while enrolled in our program. We met to review some of her information and I asked how her classes were going and if she was enjoying the program. She looked up at me and with a very calm, confident voice said 'I don't know exactly how to put it into words except to say that I have never been more sure of a decision in my life than I was in coming to MedQuest College.' Her response brought tears to my eyes and reminded me once again of why I do the work that I do and what purpose we serve. Reminders like those keep me going and, no matter how stressed I am or how much work there is to do, those moments will be the ones that stick out in my mind." She graduated with a degree in Business Management and Finance from the University of Kentucky. Robin has over 8 years of experiences in higher education. Prior to joining MedQuest College, she worked in Alumni Relations for the University of Kentucky. When not at MedQuest, time spent with family is her favorite thing.
Lee Bowling
Executive Director, Lexington Campus
MedQuest College welcomed Lee to the team in 2018 with his robust experience working as an administrator for higher learning institutions in Danville and Somerset. Lee received his Bachelor's Degree in Biology and Education before being awarded a Master's Degree in Education from Union College. He began his allied health career teaching Medical Assisting courses prior to working in campus administration. Helping students achieve their goals by supporting the growth of specialized programs has been a cornerstone of his lifework.
Cynthia Brock
Program Director, Dental Assisting – Louisville Campus

Cynthia has over 25 years' experience in both the medical and dental field. She is one of several highly educated and experienced Business Instructors for our Dental Assisting College. A graduate of University Of Louisville, Cynthia is always staying up to date on the latest policies and procedures within the dental industry as well as annual CE courses in Human Resources, Coding, Revenue Growth, Patient Experience, etc. When asked about working at MedQuest "I am thrilled to be in an environment where I can prepare and train students for professions in the dental field and to be in the position to give my knowledge and experiences combined with my love of dentistry to the next generation to care for our communities." Cynthia enjoys spending time with her husband of 25 years, three children and two grandchildren as well as basking in the sun, poolside and planning my next family adventure.
Diana Carter
Medical Assisting, Lexington Campus
Debbie Compton
Medical Assisting, Lexington Campus
Larisa Crawley
Director of Strategic Initiatives & Special Projects
Larisa provides a positive atmosphere to our administrative team! "I make ideas happen! I work with all the departments at MedQuest College to establish new projects and initiatives." Her favorite thing about MedQuest is "our tight-knit community of faculty, staff, and students. It is such a joy to be a part of an awesome team. It's easy to come and be part of a job that changes people's lives!" Larisa began working at MedQuest in June 2013. She went to Louisville Technical Institute and earned an Associate's Degree. Prior to joining MedQuest, Larisa taught at ATA College as an Adjunct Faculty Member, teaching multiple subjects including Computers in Healthcare and Keyboarding. When she is not working, Larisa can be found having a great time with her family! She also enjoys painting, playing board games, watching movies, and reading.
Tom Cropper
Principal/Career Services Director, Lexington Campus
Tom has been working with MedQuest College since its origin in 2001. He received his Bachelor's degree from Morehead State University. Prior to joining MedQuest College, Tom worked at Toyota for 15 years. When he is not working, Tom enjoys spending time with his family and playing golf.
Joseph Dawson
General Education and Sonography MA Instructor, Lexington Campus
My name is Joseph Dawson, and I am honored to have served in the field of Education for nearly 30 years. I possess a Master's Degree in Educational Leadership, and have served as an administrator, instructor, middle and high school teacher, coach, and college recruiter. Being a college instructor for twelve years, I've enjoyed teaching Introduction to Education, Teaching Diverse Populations, College Success, Freshman Study Skills, Medical Math, and Educational Methods both in person and on line. Sports are a passion of mine. Football, baseball, and basketball, to name a few. Upon graduating from University of Central Florida where I lettered in Baseball, I had the opportunity to play in the minor leagues with the Minnesota Twins and the Kansas City Royals, as well as having the privilege to play baseball in Japan and Korea. Today, I am married to my best friend Laura. We have five wonderful children, three of whom seem to have it too good that they refuse to leave! I enjoy exercising at the gym, and walking our dog Jackie. My wife and I love to take her to bark parks where she can run and play freely with the other dogs. In my spare time, I enjoy listening to music, reading spy books, and watching Ohio State football and University of Kentucky basketball games.
Krista Dowell
Medical Assisting Faculty, Louisville campus

Krista Dowell graduated from Brightwood College in 1999. Krista brings 8 years of allied health work experience with her to the MedQuest College team. Krista is certified as a Medical Billing & Coding instructor.
Andre Downing
Financial Aid Processor, Louisville campus
Andrea graduated from Sullivan University in 2009 with a Bachelor's Degree in Accounting. Andre has worked in Financial aid for 15 years. He has 5 years of experience working as a team leader for educational institutions.
Kivi Dzaringa
Instructor
Kivi graduated with a Bacehlor's of Science in Education and minor in Physics from the National University of Congo in 1993. In 2018, Kivi receive a second Bachelor's Degree in Electronics Engineering. Kivi has been teaching mach and science since 1988, as she traveled across Africa, teaching at various schools and grade levesl. In addition to tutoring students, in her spare time Kivi works as a karate instructor.
Kamry Fargher
Receptionist/Student Services
Alie Faulkner
Director of Career Services, Louisville Campus
Demetria Foots
Medical Assisting, Louisville Campus
Angie Fuller
Medical Assisting Instructor
Brian Graham
Principal / Director of Admissions
Brian has been an Admissions Director for the last twelve years, working for career based colleges. He takes pride in building a team that has an unwavering commitment to honesty and integrity when it comes to helping students enroll. His favorite thing about MedQuest is seeing students turn into successful graduates with promising careers. "Our comprehensive programs, caring educators and staff set a foundation for success in ways I have not seen at other schools. I have truly seen lives change at MedQuest." Brian has been working in education since 2002 and began working with MedQuest College in 2012. He began his career working as an Admission's Representative, then worked his way up to being the National Training Director, and up to his current position as the Director of Admissions at MedQuest. He received his Bachelor's from the University of Louisville, School of Music. When he is not working, Brian enjoys spending time with his wife and two boys. He is a big fan of the Arts, as well as college sports.
Rhonda Grimes
Adjunct Faculty
Rhonda graduated from Kentucky State University in 1988 with a degree in Business Administration. Rhonda brings years of experience as a professional Billing & Coding Specialist and program teacher.
Jennifer Guest
Instructor, Comprehensive Medical Assisting
Jennifer Guest joined MedQuest College in 2017 as an Instructor for our Comprehensive Medical Assisting program.
April Hagans
Medical Assisting Instructor
Desiree Hahn
Admissions Adviser
Kennedi Hall
Admissions Adviser
Kayla Heitzman
Instructor, Comprehensive Dental Assisting
After graduating from MedQuest College's Expanded Duties Dental Assisting program, Kayla started working in pediatric dentistry as well as a general dentistry with responsibilities including assistant, event planning, front office assistant and inventory associate. In November 2015 Kayla joined the staff at MedQuest. Kayla loves to bring a sense of joy and fun to the classroom. "Most people affiliate school as a tedious and boring thing to do, but I try to change that. I will often incorporate games and competitions into the daily lessons to help make the class more enjoyable!" Kayla has said "My personal favorite thing about MedQuest College is getting to know the students and watching them grow during their time here. I love seeing how proud the students become when they realize they truly are getting closer and closer to obtaining a lifelong career and they're having fun doing it." When not working at MedQuest Kayla loves to do anything outdoors: fishing, four wheeling, bow shooting, hiking and camping.
Sarah Imhof
Registrar and Bursar Manager, Louisville Campus
Sarah's favorite moments tend to occur when she is touring prospective students. "Many students find it easy to talk to me and I can very easily relate to many of the situations they have going on in their lives. It is a very humbling and fulfilling experience when a student tells me that I am part of the reason they chose to attend our school." She has been working with MedQuest College since October 2013 and received Bachelors of Arts as well as a Bachelors of Science from the University of Louisville. Sarah has a bubbly personality that tends to put others in a better mood. This helps maintain a positive work environment with staff and faculty, as well as the prospective students she meets. "I tend to make people feel more at ease and comfortable." When she is not working, Sarah enjoys going to the movies, working on jewelry/craft projects, spending time with friends and family, and going to concerts.
Dr. Marwa Ismail
Biomedical Equipment Technology Program Director
Amber Kavich
Marketing Manager
Amber joined MedQuest with 10 plus years of marketing and advertising experience in May 2016. While attending college to become a Medical Assistant in 2001, she was hired as a marketing assistant for a local company. After completing her externship and graduating she realized her passion was in Marketing/Advertising. Having experience as a medical assistant and in marketing will help MedQuest better position themselves in the Louisville market. "My favorite thing about MedQuest college is how determined this school is to keep the culture strong while providing a top notch education to all students. There are no cutting corners with MedQuest and that makes me proud to work here." Amber spends her free time watching her son play baseball all over the state and enjoying quality time with her daughter and husband.
Bruce Kepley
Principal/CEO
John Dewey was credited with the saying, "Education is not preparation for life; education is life itself." Bruce loves education; "I love that MedQuest can help some way, large or small, in changing the lives of our students". Bruce is an entrepreneur at heart, so continuous learning is in his DNA. His favorite thing about MedQuest is "the smart, caring and professional people I get to interact with on a regular basis. It never ceases to amaze me the people who have hidden talents that step up to help the school." He founded the organization that later became ATA college in 1994, in which he divested his ownership in 2010. The following year, he became involved with another school, Florida Academy in Fort Myers, FL. One year later, in conjunction with his partners from Florida Academy, they purchased interest in the Academy for Dental Assisting, in which he then became CEO. The Academy of Dental Assisting's name changed to MedQuest College in 2012 to incorporate the other medical programs that are offered. For the last 7 years, Bruce has also a member of the senior management team for a large apartment developer in Louisville, KY. He received a Bachelor's of Science in Finance and Economics from Indiana University Southeast. When he is not working, Bruce enjoys traveling and spending time with his wife Michelle and their two children. The whole family loves taking care of the baby of the family, Sugar, their 5 pound white Maltese.
Patti Landberg
Instructor, Comprehensive Dental Assisting
Patti spent 11 years gaining experience in dentistry; she started out as a Basic Dental Assistant, then went through EDDA training, when she accomplished that, she wanted a new challenge, so she learned all about the front office and moved up to become the Office Manager at the dental practice she was working for. "I love having fun in my class while learning. I use props to break down barriers that students have. Many are afraid to speak in front of a crowd. But by the time they complete the program, that fear is almost gone if not completely dissipated!" Her favorite thing about MedQuest College is the laid back learning environment. "We really want our students to succeed; they are not a number to us. The Instructors put their heart and soul into the students. I have a passion for dentistry and MedQuest gives me the opportunity to share that with others." Patti has been working with MedQuest since May 2013. She is also one of MedQuest's distinguished alumni; she attended the school when it was known as Academy of Dental Assisting. She is eight classes away from her Business Administration/Marketing degree. When Patti is not working, she enjoys spending time with her family, boating, traveling, reading and redesigning furniture
Amy Lawrence
Program Chair, Diagnostic Medical Sonography
Amy was born in the northeast in a small town located in Vermont. As an undergraduate Amy received her bachelor's degree in Social Work where she worked in the field for a year before moving to Florida where she pursued a certificate in Diagnostic Medical Sonography from the Florida Institute of Ultrasound located in Pensacola, FL. Upon program completion Amy relocated to Vermont where she worked at the University of Vermont Medical Center as a Medical Sonography and then transferred to Cardiology where she completed her time there as a Cardiac Sonography. Upon job acceptance at MedQuest College, Amy completed her graduate studies in Healthcare Administration. Amy is experienced in teaching allied health students in the college setting, administering clinical education to students, working as a research coordinator for the University of Vermont Medical Center, and serving as Quality Assurance Coordinator for the echocardiography laboratory also at the University of Vermont Medical Center. Currently Amy lives in the Frankfort area with her husband Josh and their 8 year old English bulldog "Gordita". As a member of the American Registry for Diagnostic Medical Sonography, Amy is very excited to share her knowledge of the field with all students and staff at MedQuest College.
Angela Maggard
Adjunct Faculty
Angela graduated from Morehead State University in 1991 with an Associate's Degree in Radiology. Angela brings to MedQuest 25 years of experience in general, vascular, thoracic and cardiovascular surgery. Angela has been teaching for 16 years and is an excellent resource for credentialing.
Jeannie Martin
Director of Admissions – Lexington Campus

Miranda McDaniel
Dental Assisting Instructor
Carol McDonald
Medical, Billing & Coding Director
Tabitha McKinney
Registrar, Lexington Campus
Tabitha graduated from Kentucky State University in 2017, where she received her B.A. in Public Administration. Tabitha brings years of public service experience to the MedQuest team. In the past she has worked in public safety, education administration and healthcare.
Brandon Merideth
Admissions Adviser
Chelsea Metzger
Admissions Adviser, Louisville Campus
Christine Miller
Dental Assisting Instructor
Heather Miller
Instructor, Comprehensive Dental Assisting
Heather joined MedQuest in May 2016 as a Dental Assisting Clinical Instructor. After graduating from the Dental Assisting program at ATA College, she attended University of Louisville to complete her EDDA Certification in 2011, and received her Coronal Polishing Certification from University of Kentucky in 2012. Heather has worked in General Practice but majority of her experience is in Pediatrics in which she took on the role learning how to fabricate space maintainers and the responsibility of lab work in the office. When Heather is not working she is spending time with her 3 kids and husband and having craft days with her best friend, her mom Renna. She loves the environment at MedQuest College and says she loves being able to help students prepare for their careers.
Bethely Morton
Medical Assisting, Lexington Campus
Nanette Mosser
Program Chair, Comprehensive Medical Assisting
Nanette began teaching at MedQuest when the Medical Assisting Program was created. She taught the first class of Medical Assistants and has seen them through to their externship; "I'm proud I was able to see them change and work hard toward their goal to be a successful medical assistant." Nanette has been working with MedQuest College since October 2013. "My favorite thing about MedQuest College is the small class size. I like to know my students on a more personal level because it allows them to feel more comfortable asking for help; as a result, I have a better understanding of how to help them." She obtained a degree in Nursing from Spencerian College and a degree in Healthcare Management from Ottawa University. Before joining MedQuest College, Nanette was a full-time instructor at ATA College for 7 years. Prior to that, she was a nurse and Staff Development Manager for Signature Healthcare for 14 years. When she is not at work, Nanette enjoys going to the movies, shopping and spending time with her husband, Gerry, and children: Ethan (12) and Emily (8).
Mary Murphy
Medical Assisting Program Director, Lexington Campus
Mary joined MedQuest College as our Lead Instructor of our Medical Assisting Program and teaches at our Lexington campus. She attended Mid-State Technical College in Wisconsin and received her diploma in Medical Assisting in 1985. She also attended MedTech College where she graduated with an Associates of Applied Science in Medical Assisting in 2016. Mary is credentialed through the AAMA as a Certified Medical Assistant and credentialed through the AMT as a Certified Allied Health Instructor. Before joining MedQuest College, Mary was a full time instructor as well as the Medical Assisting Program Director at MedTech College for 5 years. Prior to that position, she worked as a CMA at Baptist Family Physicians for 4 years. Mary has been a CMA for 32 years and worked in several different areas of health care in her career as a CMA. When she is not working, Mary enjoys going to movies, baking and spending time with her husband, Brian, and my 2 boys, David and Jacob. Her favorite thing about MedQuest is the smaller class sizes. "I feel that the students excel so much more in a smaller learning environment. I get to know each student on a more personal level to be able to understand their needs to help each student be successful."
Tyra Nunn
Senior Admissions Adviser, Lexington Campus
In the short time that Tyra has been working with Admissions, she is proud to say that she has helped over 20 students find a home here at MedQuest. She has been working with MedQuest since April 2014 and said that her favorite thing about MedQuest "is the dedication and integrity everyone strives for to keep this school top-notch. The open-door policy of the administrators and the 'students-first' atmosphere is what makes us stand out from other schools." Prior to joining MedQuest, she worked with special needs students in the elementary setting, troubled teen girls at Maryhurst, and wrote web articles for Great Web Articles. When not working at MedQuest, Tyra loves spending time with her husband and daughter as well as cooking, reading, and writing. "Writing and editing is what I love to do in my down time, I find being tasked with editing and formatting our accreditation self-study as something noteworthy!"
Georgia O'Connell
Admissions Adviser – Louisville campus

Georgia graduated from WKU in 2017 with a Bachelor's in Public Relations. Previously she worked as an intern in the football Communications Department for Super Bowl LII and the Detroit Lions. During her undergraduate career, Georgia interned with WKU Sports Marketing and was a member of the women's volleyball team.
Candace Owens
Dental Assisting Program Director, Lexington Campus
Candace has been an EDDA for over 16 years. She began her career with a periodontist, but has found a home in general dentistry; "I love the variety that it offers." As an instructor, she loves getting to see the "ah-ha" moments when something clicks with a student. Her biggest strength is that she can almost always take a negative situation and turn it into a positive, which comes in handy when she is working with students that are struggling with a concept. Candace joined MedQuest College in 2012 and received her dental assisting training at Kentucky Tech. When she is not working, Candace enjoys spending time with friends and family. She loves to read, write, go to the movies, and most importantly, listen to 30 Seconds to Mars!
Julie Pope
Adjunct Faculty

Julie Pope joins the MedQuest College team after studying at Jefferson Community & Technical College and Indiana Vocational Technical College. Julie brings over 25 years of healthcare experience to the MedQuest team. In addition to being passionate about education, Julie is a certified Medical Assistant and Medical Coder. CMA, CPC, COC, CPMA and CPC-I.
Lisa Raymond
Sonography Instructor
Lisa graduated from Saint Catherine College in 2009 with an Associate's Degree of Science in Vascular Sonography. Lisa is a registered Vascular Technician and has worked for Baptist Hospital as an Ultrasound Technician, before working full-time at Audobon Hospital. Lisa has experience working with students in a hospital setting as they finish their clinical studies. In 2017, Lisa presented a professional case study for Norton Hospital and their cardiovascular team.
Candace Scalzitti
Admissions Advisor
Candace is one of our experienced and professional admissions advisors that can answer any question you may have about MedQuest College. Prior to joining us in December 2016 Candace was an Interpreter at a Law Office and a graduate of University of Louisville with a Bachelor's Degree in Spanish. Candace enjoys most of all seeing students excited about starting school here and making a positive difference in people's lives. When she is not at MedQuest, Candace is spending time with her family and enjoying the outdoors.
Leslie Schweitzer
Financial Manager
Leslie started her adventure with MedQuest in December 2015 as our Registrar/Bursar. With her experience as a HR Director for a Lexington marketing firm, Leslie brings a Bachelor in Business Administration Management from Georgetown College. After only 6 months with MedQuest she was quickly promoted to Director of Placement / Financial Manager. After moving from Lexington to Louisville her coworkers made her feel welcomed to her new home in Louisville. She enjoys spending time with family, friends and her best buddy, Reagan (an eight year old Goldendoodle). Her and Reagan love to explore the outdoor and find hiking trails. She is an adventure-seeker and takes any chance she can to get to explore new places.
Melody Schweitzer
Interim Director of Education/Nursing Program Director
Stephanie Slone
Career Services Director, Lexington Campus
Stephanie became a part of the MedQuest team in 2018. Before joining the team, Stephanie obtained NCPT and NCET certifications as a Registered Medical Assistant following a successful academic journey at National College in 2011. Stephanie obtained her B.S. in Healthcare Management from Sullivan University in 2013. Stephanie brings a strong portfolio of work to the MedQuest team. She worked in a variety of roles at American National College included teacher, program director and career services. Stephanie was the Institutional Director of Health Services at National College, serving multiple campuses across six states.
Jo Sparks
Dental Assisting, Lexington Campus
Aaron Taylor
Medical Assisting, Louisville Campus
Elani Temple
Financial Aid Processor
Kelli Tinsley
Instructor, Comprehensive Dental Assisting
Kelli joined our team in March 2016 after graduating from MedQuest College with all dental requirements. She has experienced working with adults and children in a dental office and when asked which she prefers, "Children. Every day it is something different and unexpected." Kelli said her favorite "feel good" moments at MedQuest is when a student tells her that she helped them better understand something that at one time was confusing or they just didn't get it. In her free time, Kelli likes to spend time with her family, reading or hanging out with friends.
Sharon Thompson
Dental Assisting Instructor
Ann Wilcher
Adjunct Faculty
Ann graduated from American National University in 2014, where she received her B.S. in Healthcare Management and AAPC coding certification. Ann previously administered the Medical BIlling & Coding program at Daymar College and brings with her a multifaceted skillet. Welcome to MedQuest!
Georgetta Williams
Medical Assisting and Sonography Instructor, Lexington Campus
Lisa Wright
Director of Financial Aid
Lisa is MedQuest's very own Financial Aid guru. She has provided financial aid for over 18 years to thousands of students across the state of Kentucky. She is always willing to go above and beyond to ensure that each student that walks through our doors has an opportunity to take advantage of any financial options we have available. Her greatest satisfaction working at MedQuest is "being able to help the students!". Lisa enjoys going to the Lake and spending time with her family.
Are you ready to learn more about MedQuest College?
Click below to request more information about the program of your choice.
Request Information